Vermop
Our partner Vermop: High-quality cleaning equipment and systems - innovative, proven in practice and durable.
Highlight products of the brand Vermop
Who is Vermop?
For over 90 years Vermop has been developing high quality cleaning products growing into an international company. Through constant development they became known worldwide for their leading, technological cleaning systems. Their products are characterized by a long life and service span.

The wide range of cleaning equipment, systems and accessories is developed and produced in Germany. In addition the company sources most of its raw materials from suppliers in Europe to ensure the best quality. In doing so, the company constantly acts in the most sustainable, efficient and resource-saving way possible.
Scandic X System
The Scandic X system from Vermop is the solution for all types of cleaning applications. The telescopic stick makes it possible to perform all work with one handle.

The individual height adjustability offers a gentle application for back and joints. In addition not only floors and surfaces, but also ceilings can be reached without any problems. The Scandic coupling system allows an easy combination of all Vermop cleaning devices as well as with many devices from other manufacturers.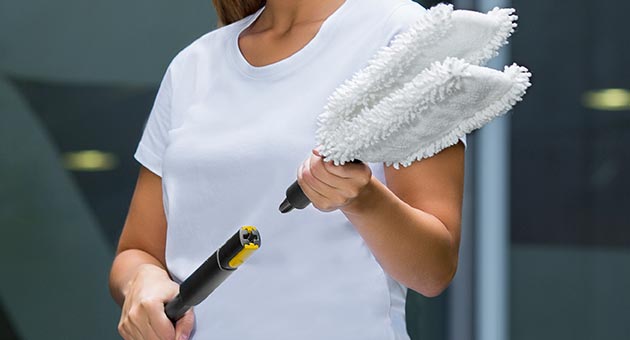 Sustainability
Vermop only uses green energy for the running production facilities. For example the evaporative cooling systems are powered by rainwater. In addition special focus is placed on the efficient and economical use of raw materials.

The company is also concerned with the reuse of raw materials and for example uses scrap parts and sprues to grind granulate from them so that it can be immediately returned to the production process. In some cases, the regranulate is also used to rebuild new production parts. Packaging materials are also fed back into the material cycle after recycling. Reuse reduces the amount of raw materials consumed and avoids unnecessary energy loss.