Multi-purpose cloths Tetra Premium | viscose/PP
Multi-purpose cloths Tetra Premium | viscose/PP
absorbent and tear-resistant
high-quality textile non-woven fabric, approx. 145 g/m2
boil-proof and reusable
very tightly needled, extremely hard-wearing
lint-free
for streak-free cleaning of stainless steel
available in 5 colours
Further product description
Article-Nr.
3145
Content: 450 x 1 piece
Tetra Premium multi-purpose wipes made of viscose and PP from Hygoclean
These premium cleaning cloths are versatile, absorbent and extremely tear-resistant. With the multi-purpose Tetra Premium wipes, you can clean various surfaces particularly thoroughly, lint-free and free of streaks. Even stainless steel surfaces quickly become hygienically clean again with the Tetra wipes.
The great strength of these non-woven wipes lies in the material combination of viscose and PP. This mix gives the cleaning cloths a unique quality that you notice immediately. They consist of 80% viscose, which is why the cleaning cloths are extremely absorbent and absorb liquids very well. In addition, there are 20% fibres made of polypropylene (PP for short), which give the cloths a very tear-resistant, robust quality. The absorbent, soft viscose together with the resilient, solvent-resistant PP ensure convincing cleaning results. Tetra premium multi-purpose cloths are ideal for cleaning work in kitchens, hotels, sickrooms, laboratories or as polishing cloths for stainless steel and other demanding surfaces.
Material mix at a glance
Viscose

textile character
extremely absorbent
pleasantly soft

Polypropylene (PP)

robust
hard-wearing
solvent-resistant
Your savings advantage: Can be used again and again
Tetra cleaning cloths are tightly needled non-woven cloths with a textile character. Thanks to their durability, they are anything but disposable. The cleaning cloths can be boiled up to 8 times and are ready for use again after washing. The multiple use of the cloths is easy on your budget and the environment.
5 colours: how to separate different hygiene areas easily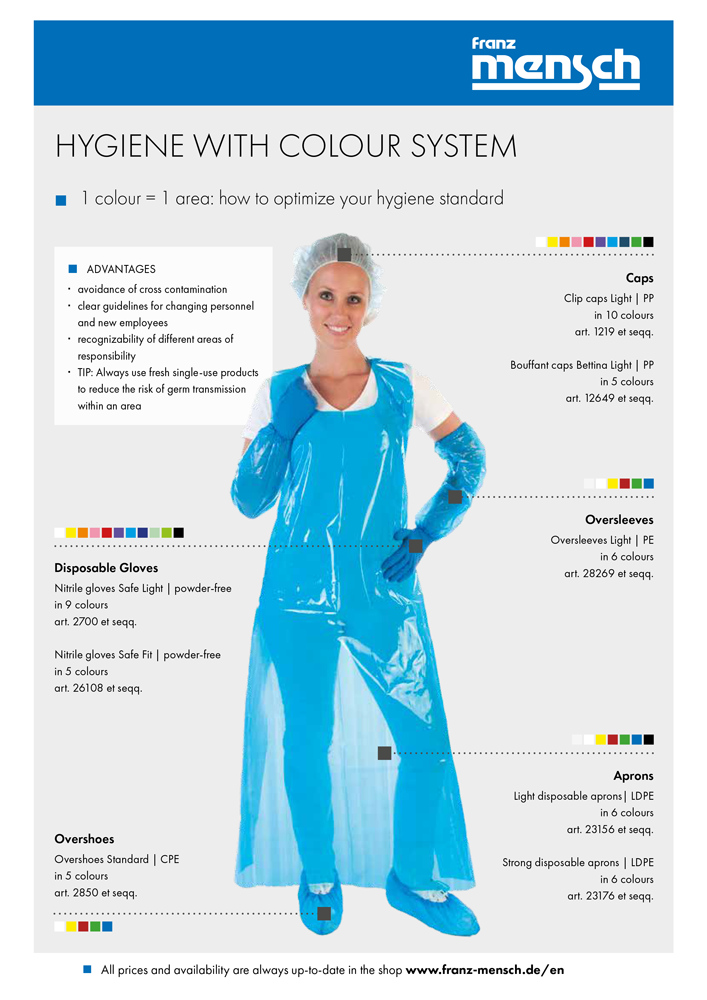 The Tetra Premium multi-purpose wipes are available in five colours. This makes it suitable for use as part of a hygiene colour system. Each hygiene area has its own colour, e.g. red = kitchen, blue = production, yellow = sanitary. A simple system that prevents confusion and thus cross-contamination.
For professionals: Rely consistently on a hygiene colour system and equip your business with coloured work utensils and hygiene clothing. At Franz Mensch you buy a complete range from head to toe.
Properties of Tetra Premium multi-purpose wipes at a glance:
non-woven cloth made of 80 % viscose and 20 % polypropylene
high quality, approx. 145 g/m2
fabric-like quality
highly absorbent for thorough results
tear-resistant and reusable
boil-proof, up to 8 times
very tightly needled and hard-wearing
lint-free
5 colours available
versatile for all cleaning jobs
also for streak-free cleaning of stainless steel
Functional range
for all cleaning work in kitchens, hotel rooms, sickrooms, laboratories
Properties
| | |
| --- | --- |
| Type of inner packaging: | PE |
| Type of outer packaging: | PE |
| material: | viscose |
Questions & Answers
Here we have summarized the most frequently asked questions and answers about this product. If you still have questions about the product or our online store and its use, please take a look at the FAQ's or contact us directly via e-mail or telephone - we will be happy to advise you!
Unlike polyester or PP, the raw material for viscose is plant-based. Viscose is made from cellulose, which is extracted from wood. In a chemical process, the cellulose is processed into fibres and thus counts as a semi-synthetic material. The great advantage of viscose: it is able to absorb and temporarily store moisture to a very high degree - for fast and thorough cleaning results.

Besides, viscose has a textile character and is particularly soft. These properties also make viscose a popular material for garments. Clothing made of viscose convinces with a very pleasant body climate and its breathability. Viscose is also very suitable as a material for cleaning cloths, because viscose cloths clean particularly effectively and thoroughly thanks to their enormous absorbency.
https://www.franz-mensch.de/en/faq/what-is-viscose
Download all documents for your product here:
For completed orders you can also download all documents collected in the order overwiev !